This site is undergoing maintenance. If you are in the process of entering information, please complete it in the next few minutes and then log off, to ensure that you are not interrupted. If you were about to start entering details, please wait until this message is removed. You may continue to browse content on the site during the upgrade if you wish. We apologize for any inconvenience this may cause.
Legacy & Leadership Giving
We're excited to share two new opportunities to Prouty donors this year: You can create a legacy for the 40th Prouty with a planned gift and donors who contribute $5,000 can join the Health Leaders Circle.
Giving Assets to Create a Legacy
Your assets can change lives by creating research programs for cancer cures, educating innovators through hands-on experiences, and providing supportive services for patients. When you give a gift of assets, you become a Pinnacle Society member with our deepest appreciation. New this year, you can direct your planned gift to the 40th Prouty and create a lasting legacy.
Here are some ways to use assets to make a planned gift:
IRA Rollovers
Donor Advised Funds (DAF)
Charitable Lead Trust
Remainder Trusts
Charitable Gift Annuities
Retained Life Estate
A gift in your will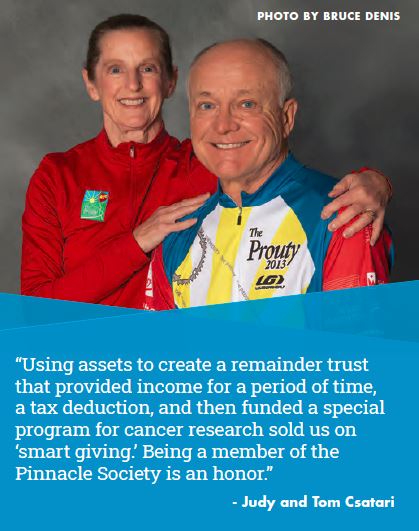 Health Leaders Circle
With a gift of $5,000, you're invited to join our Health Leaders Circle, supporting the health of the community through leadership annual investments in innovation, excellence, and education through the Friends of Norris Cotton Cancer Center.
Health Leaders Circle members will be recognized with:
Opportunities to connect with institutional leaders to learn how their support is making a difference
Personalized annual philanthropic impact report
Invitations to intimate Health Leaders Circle recognition events throughout the year
A listing in the annual Honor Roll of Donors


For more information, contact Jaclynn Rodriguez, executive director for the Friends of NCCC at jaclynn.rodriguez@hitchcock.org or call 603-653-0711.