Fundraising Tools
Jack & Dorothy Byrne Foundation Match
WE DID IT! This year's Jack & Dorothy Byrne Foundation match has been fulfilled! Thank you for earning these important dollars for Dartmouth and Dartmouth-Hitchcock's Norris Cotton Cancer Center!
Leverage your Participant Center
When you register for The Prouty, you'll create a participant account where you can access tools and resources to help you fundraise. Customize a personal fundraising page with your story, share your participation on Facebook, and utilize an email tool to easily spread the word to family, friends, and more about your participation in The Prouty. The following tools are available in your Participant Center:
Share your story on your Personal Page. Customizing your Personal Page with a photo and your story is a great way to engage your potential donors.
Facebook Fundraising will help you build momentum and reach your goals faster! Not only will you be able to share your fundraiser with all of your Facebook friends, but this is the fastest way for your supporters to make a gift. Click here to see our step-by-step guide to set up your Facebook Fundraiser.
Send an email to your friends and family. The email tool in your Participant Center is preloaded with Prouty branded stationery and sample emails that you can use for your fundraising.
Share your Personal Page URL with others. To find your Personal Page URL, go to TheProuty.org homepage and scroll to where it says "Search for a Participant or Team." Enter your name there and click the "Go" button. Click on your name in the search results and copy the whole URL at the top of your Personal Page. This link is specific to YOU—feel free to include it in your solicitation letters or on social media.
Download The Prouty App and manage your Participant Center easily from your mobile device.
Visit our Help page to find step-by-step tutorials on how to access these tools.
Youth Fundraising - Positive Tracks
If you're between the ages of 12 and 25, Positive Tracks wants to help you sweat for good on behalf of Norris Cotton Cancer Center! Apply to Positive Tracks for free counsel on leadership, team building, fundraising, community engagement, cause advocacy, event planning and promotion. Positive Tracks offers a $100 fundraising match if youth sweat for good through an event like The Prouty.
Company Matching Gifts
If you work for an employer who matches funds, request the necessary paperwork from your employer to get started. If you need to send us paperwork, please send it to:
D-H/Geisel Office of Development
Attn: Gift Recording
One Medical Center Drive
Lebanon, NH 03756
If you need verification from us or a copy of our W-9 form, please contact us by either calling (800) 226-8744 or emailing info@theprouty.org and we can send, fax, or scan these to you or your company. If you have forms that need verification, send them to us electronically and we will send them to the appropriate development office.
Please Note: The Friends of Norris Cotton Cancer Center is listed under the umbrella of Dartmouth-Hitchcock Health non-profit status, tax ID# 26-4812335, so your employer would need to check for us as Dartmouth-Hitchcock Health, NOT as Norris Cotton Cancer Center or The Prouty™.
Asking Your Donors
The most successful Prouty fundraisers ask as many people for support as possible and they do it in very personal ways. When you write your fundraising letter, be sure to answer the following questions:
What is The Prouty and where does the money go?
How will you Prouty this year?
Why are you committed to going the distance to end cancer?
What does someone's support mean to you?
What is your fundraising goal and how much progress have you made?
To help you get started, here is a Fundraising Sample Letter and a Team Member Recruitment Sample Letter.
All donations to the Friends of the Norris Cotton Cancer Center are tax deductible. The tax ID is 26-4812335.
Thanking Your Donors
Nothing is more important than taking the time to say thank you to the people who supported you this year. Whether you handwrite notes or send by email, we encourage you to make time to personally thank your donors and let them know their gift makes a difference.
Another great way to thank your supporters is to post on social media a note of gratitude—it recognizes your donors for their support, and helps remind others about your fundraising efforts.
Create a Legacy with a Planned Gift
New this year: You have the opportunity to count the entire value of your planned gift in the 40th Prouty fundraising total. Create a lasting legacy and make a meaningful impact for cancer patients and all future generations. For more information, contact Jaclynn Rodriguez, executive director for the Friends of NCCC at jaclynn.rodriguez@hitchcock.org or call 603-653-0711.
Virtual Bibs and Banner
Be sure to download and print your Let's Prouty Banner and a Prouty bib for your virtual Prouty by clicking on the images below. Then, send your photos to info@TheProuty.org and share on social media using our our hashtags! #Prouty2021 #TheProuty #LetsProuty #ProutyOn. We can't wait to see what you do!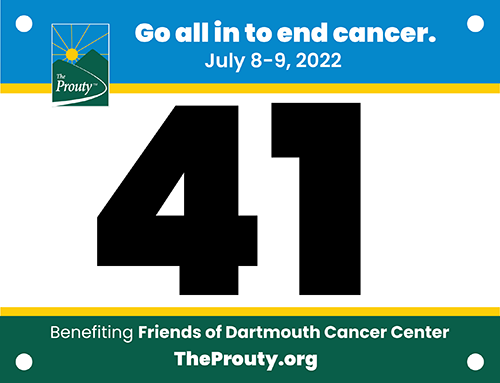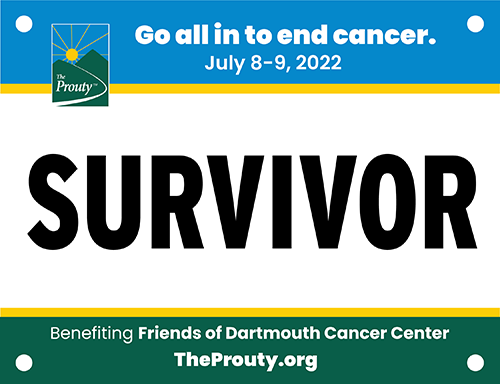 Social
Social media is a great way to ask for donations, share why you're participating in The Prouty, and encourage others to participate. If you need help connecting your Prouty page to Facebook, check out our tutorial.
When you post about The Prouty on your social channels, please use our hashtags!
#Prouty2021 #TheProuty #LetsProuty #ProutyOn