How to Prouty in 2021
This year's Prouty will include both in-person and virtual participation options!
There are four ways to participate in The Prouty this year:
We are excited to be back bringing you a small piece of our traditional Prouty. The Prouty has always been about hope, and this year's hybrid model is a stepping stone to a return to normalcy from COVID.
No matter what you choose, join us and make a difference!
Note: We will not be gathering at Richmond Middle School for the in-person Prouty in 2021.
How to Participate in person at The Prouty

GOLF: Golfers will be assigned a designated tee time, which will be emailed out the week of the event. Additional golf details are available here.
BIKE AND WALK: Participants are welcome to join us during our designated start time windows:
Bike on Saturday, July 10 – join us to start riding between 8am-11am
Walk on Sunday, July 11 – join us to start walking between 10am-1pm
COVID-19 Update: As restrictions have lifted (as of June 25, 2021), we no longer are required to implement assigned start times, masks, physical distancing, or gathering limits. We are excited to move forward together, one pedal and step at a time and hope you'll join us!
Important note: anyone experiencing COVID-like symptoms—vaccinated or not—should not attend or participate in-person in the Prouty on July 9-11, 2021. Participants and volunteers traveling from outside of New England who are not vaccinated are required to quarantine 10 days prior to the event or test negative for COVID. Full details for visitors outside of New England can be found here.
Fundraising minimums: minimums will be applied for each participation type ($150 for bike/walk and $250 for golf) and will need to be reached by event day. There will be no on-site registration for in-person events, as a result, pre-registration is required.
Supportive services: support will be available during the In-Person Prouty Bike and Walk to include a SAG stop, medical personnel, as well as bike tech and on-road support vehicles for cyclists.
Volunteer opportunities: if you are interested in volunteering, please email info@theprouty.org for more details and to sign-up.
How to Participate in the Virtual Prouty

Virtual Prouty: 40 Days for the 40th
Virtual participation allows creative options to join The Prouty, for anyone, anywhere, any way, at any time between June 1 and July 10, 2021! Virtual participants can join teams or create their own. If that timeframe doesn't work for you—no problem! You can complete your virtual Prouty any time that works for you.
We will produce an enhanced virtual event in 2021 which will include a live ceremony broadcast, Prouty Gear Rewards with curbside pick-up, and a virtual wall of honor. We are also creating an outdoor pedestrian walkway display around Dartmouth-Hitchcock Medical Center (Lebanon, NH) honoring our 40 Faces of The Prouty. Patients, family, and friends are invited to stop by June 1-July 10, 2021 to experience our 1.2 mile walkway and read inspirational signs why we Prouty and how it makes a difference.
There are no registration fees or fundraising minimums for the Virtual Prouty. Check out our Prouty Gear Rewards page to see what you can earn with your fundraising efforts!
Be sure to download and print your Let's Prouty Banner and a Prouty bib for your virtual Prouty by clicking on the images below. Then, send your photos to info@TheProuty.org and share on social media using our our hashtags! #Prouty2021 #TheProuty #LetsProuty #ProutyOn. We can't wait to see what you do!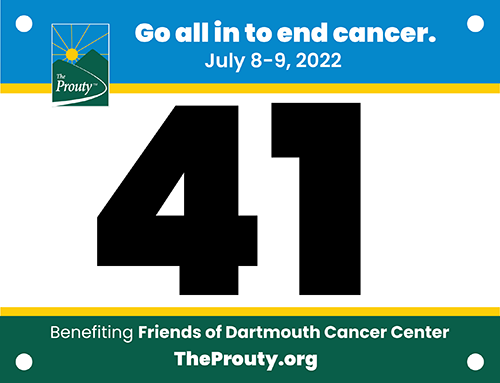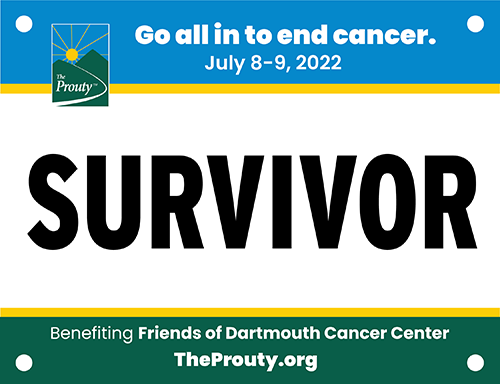 Virtual Prouty Ultimate
We don't have to be in-person to ride a Century (or two!). Click here to learn more about the Prouty Ultimate.
Traditional Ways to Prouty

The Prouty is a 40-year-old event and, before a global pandemic, we brought 4,000 people together on one Saturday in July in Hanover, NH. When we're in-person, Prouty participants can choose any of the following ways to Prouty:
Bike
20, 35, 43, 50, 65, 77, or 100 miles
Fundraising Minimum: $150
No matter how skilled or ambitious you are, there is a scenic Prouty route for you. There are even two gravel rides a Gravel Metric Century (65 miles) and a 70K Gravel Ride (43 miles) where you can tour the best less-traveled roads in the area. Both gravel routes are designated for the experienced cyclist with a higher level of self-sufficiency.
Ultimate
200 miles
Registration Fee: $150
Fundraising Minimum: $2,500
If 100 miles is not enough, check out The Prouty Ultimate two-day, 200-mile ride! Click here to learn more about the Prouty Ultimate.
Walk
3K, 5K, 7K or 10K
Fundraising Minimum: $150
Residential and wooded walking routes take in destinations such as historic Hanover, Dartmouth College, the Connecticut River, and scenic Oak Hill. Ordinarily there are nature points of interest on the wooded walks, historical points of interest on the residential walks, and a chocolate milk SAG stop on the Dartmouth Green!
Row
5, 10 or 15 miles
Fundraising Minimum: $150
Row the spectacular Connecticut River. Participants bring their own boats, then row in an "out and back" format to the famous rowing SAG in Lyme, N.H., known for its amazing breakfast! Support is offered by on-water safety launches.
Golf
18 Holes
Fundraising Minimum: $250
Play 18 holes to help make a difference in the fight against cancer. Golf course location and details will be available soon—stay-tuned!
Virtual
In a normal year you can always be a virtual! Virtual participation allows creative options to join The Prouty, for anyone, anywhere, any way, at anytime! Virtuals can join teams or create their own.
Volunteer
No matter how many hours you can give, there is an opportunity for you to make a difference! Our volunteers have a huge impact on The Prouty by helping participants park, travel safely, eat, play, compost, and much, much more.