Photos, Videos & More
Want to see what the Prouty is all about? Check out our annual Prouty Chronicle, videos, photos and more!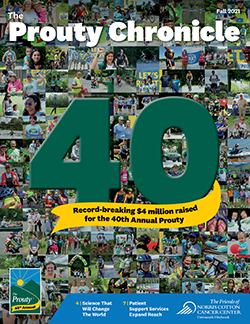 Prouty Chronicle
Check out the latest issue of the Prouty Chronicle. It features many photos of our community Prouty'ing last year along with exciting updates from the Cancer Center. The stories in this publication showcase the deep and meaningful impact of what it means to Prouty.
Prouty Videos
Find Prouty videos on the Norris Cotton Cancer Center YouTube channel.
Gallery
Take a look at photos from the 40th Annual Prouty and some of the 2021 Virtual Prouty photos participants submitted!