CHaD Battle of the Badges Hockey game returning in March 2022
Fundraiser slated for March 13 at SNHU Arena in Manchester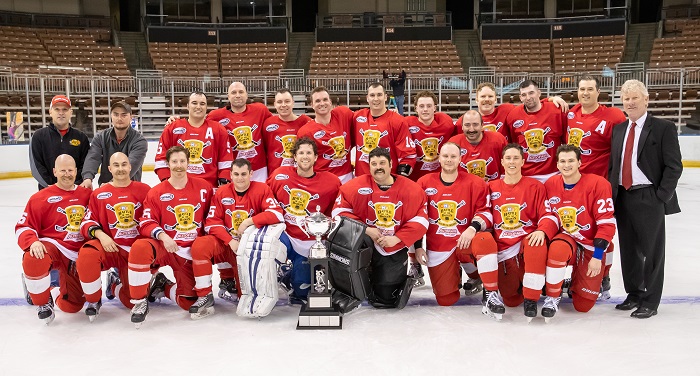 LEBANON, N.H. Children's Hospital at Dartmouth-Hitchcock (CHaD) is excited to announce the return of the CHaD Battle of the Badges Hockey Championship. On Sunday, March 13, 2022, first responders from across the state will skate and raise money for CHaD at SNHU Arena in Manchester. The game is returning for its fourteenth edition after being cancelled in 2021 due to the COVID-19 pandemic.
The rosters for Team Police and Team Fire will be determined after a single tryout session Wednesday, Sept. 22 at Saint Anselm College. All first responders are eligible to try out for one of the teams. For Team Police these include include full- and part-time police officers, sheriffs, marshals, state troopers, homeland security, corrections officers, campus police, instructors and dispatchers. Team Fire's eligible players include full-, part-time, call/volunteer firefighters, EMT/EMS, dispatchers, campus fire and rescue personnel, dispatchers and instructors.
Once the teams are selected and announced in early October, the players will undertake a mission to personally raise at least $1,500 to support programs that CHaD families rely on every day. They begin practicing as a team on a monthly basis in November, continuing through early March. There will be at least one scrimmage between the teams in early 2022.
The players will also be paired with a CHaD ambassador, called a CHaD Buddy, to connect them to the game and its mission. These children and their families are current or former CHaD patients who have benefited from the programs supported by the game and other CHaD fundraising endeavors. Several Buddies will be paired with players they have been connected to for years, with the game representing just a small part of the bonds between the players and the Buddy families.
At the last game in March 2020, Fire came away with a 9-4 victory to earn its second straight win. The event raised over $200,000 despite being closed to fans in the early days of the pandemic. In 14 years, over $2.6 million has been generated by the event through the commitment of generous sponsors, donors, attendees and players.
Official game time and ticket options will be announced in the coming weeks. For additional information, visit www.CHaDHockey.org.