Our Kid HEROES
Inspirational and brave are understatements when it comes to describing our Kid HEROES. These children have shown courage and resilience when faced with serious health challenges.
Our Kid HEROES represent the incredible things that are accomplished when we all collectively work together to make an impact. Every Kid HERO has benefited from the care and services of Dartmouth Health Children's and CHaD.
Below are just a few of the HEROES that inspire us and we know will inspire you too!
---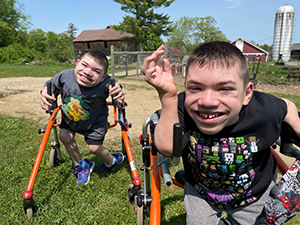 Jack & Hunter
In 2010, Jack and Hunter were diagnosed with Morquio syndrome, or MPS 4A, an extremely rare genetic condition that affects a child's bones, organs, spine, and physical abilities. This diagnosis 13 years ago is where their journey with the Children's Hospital at Dartmouth Hitchcock Medical Center (CHaD) began.
Jack and Hunter's parents, Alison and Matt, said that CHaD has been the "backbone" of their medical care, which includes home infusions and ENT treatment. They hope to not only raise awareness about Morquio syndrome, but also want to give gratitude to the caregivers and medical personnel at CHaD who have worked alongside them since their sons were diagnosed. Jack and Hunter are two of the 2023 Kid HEROES.
---
Mira
Mira has been a Children's Hospital at Dartmouth Hitchcock Medical Center (CHaD) patient for the last three years, seeing specialists in Cardiology, Otolaryngology and Endocrinology. Mira has Down syndrome and Tetralogy of Fallot (TOF), a rare condition caused by a combination of four heart defects. She has undergone multiple surgeries and procedures since she three nine months old and has regular appointments with her specialists. Her cardiologist, Meghan Zimmerman, MD, MPH, describes her as "happy, resilient and a joy to have as a patient." Mira is always excited to see her nurses and doctors at CHaD, greeting them with fist bumps, hugs and high fives. Mira was the 2022 Kid HERO.
Read more about Mira's story here.
---
Ainsley
Meet Ainsley! Ainsley became a Children's Hospital at Dartmouth Hitchcock Medical Center (CHaD) patient shortly after she was born, when doctors discovered that she had congenital heart conditions and would need open heart surgery. Now despite countless procedures and appointments, Ainsley is thriving. She is a happy, energetic girl who is in dance class, rides her bike, and enjoys camping and playing outdoors. Ainsley was the 2021 Kid HERO.